Products tagged with baies
(3)
Green Sansho berries from Wakayama - Japan 30g
A lemon zest fragrance evoking kaffir lime leaves, with notes of mint, candied lemon, with a slightly spicy peak recalling some peppers.
Siltimur berries - Nepal 60g
The dominant aroma is lemon and citronella, very fresh with intense fruitiness. To taste there is no anaesthetic effect, nor is it really spicy, the flavour is citrus - lemon, mandarin, candied citron, with spicy notes of camphor and a touch of menthol. T
Le Comptoir des Poivres Red Sansho Berries from Wakayama Japan - 30g
Very floral fragrance evoking old roses and white sage, very close to a very beautiful Sichuan but more elegant. Notes of pink grapefruit, lemon and lemongrass, rosewood.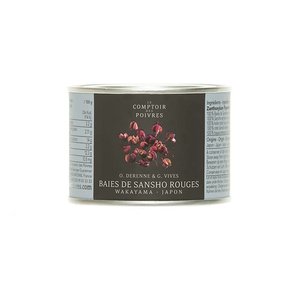 Add to cart
Le Comptoir des Poivres Red Sansho Berries from Wakayama Japan - 30g