Products tagged with Château d'Estoublon
(4)
ESTOUBLON BLACK OLIVES TAPENADE 130G
Château d'Estoublon is both a vineyard and an olive-growing estate. These two skills meet in this creamy and creamy black olive cream that combines black olive and olive oil with red wine. Inimitable flavors and aromas that are enhanced by vinegar capers,
Provence Mon Amour olive oil | Château d'Estoublon | 200ml
A precious bottle with delicately rounded shapes and retro design. A beautiful round cap and a glass bottle, embellished with a black and gold label, give this product an undeniable luxury and poetry. A hymn to eternal Provence and its prestigious AOP oli
PDO olive oil Baux-de-Provence Valley | Castle of Estoublon | 500ml
A PDO "Vallée des Baux-de-Provence" oil reflecting the terroir: balanced and generous.
The "great classic" of Château d'Estoublon: a superb bottle, inspired by the greatest wines.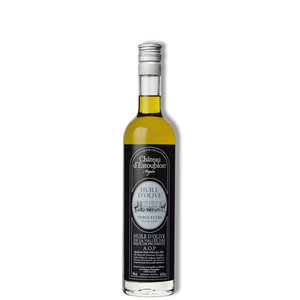 Add to cart
PDO olive oil Baux-de-Provence Valley | Castle of Estoublon | 500ml
ESTOUBLON ALMONDS AND GREEN OLIVES TAPENADE 130G
This recipe made by Château d'Estoublon favors all the aromas of Provence. In the crunchy and herbaceous flavor of green olives, are added the acidity of capers vinegar, the sweetness of almonds and olive oil and the finesse of anchovies. A touch of garli