Products tagged with Desserts
(3)
Le Comptoir des Poivres Sweet Licorice Root Powder Italy 50g
It emits a characteristic odor, aniseed, sweet and woody, with a beautiful plant freshness.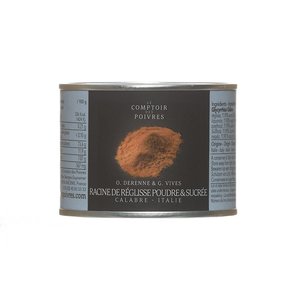 Add to cart
Le Comptoir des Poivres Sweet Licorice Root Powder Italy 50g
Le Comptoir des Poivres Cinnamon Powder Madagascar 60g
Its scent is subtly scented and sweet with a peppery touch. She immediately talks about the pastry.
Le Comptoir des Poivres Monkey Bread Powder Madacascar 50g
Monkey bread is the fruit of African baobab. Nose: Blond pear, unripe plum, persimmon, cucumber, and beautiful green melon acidity.