Products tagged with Japan
(5)
Le Comptoir des Poivres Mikan Mandarin Bark Japan 50g
Subtle nose, with touches of sweet citrus, a vegetal nose evoking a hot smell of straw. On the palate fun texture, the powder melts on the tongue, leaving traces of sugar and in the end, a pleasant bitterness of tangerine bark.
Le Comptoir des Poivres Japan Yuzu Bark Powder 80g
Intense nose of citrus, lemon, lemon confit, dried lemon peel with menthol spikes. Despite the acidity, a warm and sweet note emerges.
Long pepper from Ishigaki Jima - Japan 50g
What first strikes upon olfactory examination are the surprisingly warm, woody, roasted notes, with a beautiful presence of cocoa, coffee, surprising touches of bell pepper and dried tomatoes, a slightly creamy, buttery smell, evoking a cake in the oven..
Green Sansho berries from Wakayama - Japan 30g
A lemon zest fragrance evoking kaffir lime leaves, with notes of mint, candied lemon, with a slightly spicy peak recalling some peppers.
Le Comptoir des Poivres Red Sansho Berries from Wakayama Japan - 30g
Very floral fragrance evoking old roses and white sage, very close to a very beautiful Sichuan but more elegant. Notes of pink grapefruit, lemon and lemongrass, rosewood.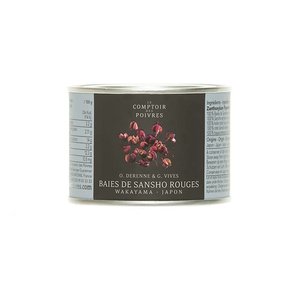 Add to cart
Le Comptoir des Poivres Red Sansho Berries from Wakayama Japan - 30g