Products tagged with Japon
(5)
Green Sansho berries from Wakayama - Japan 30g
A lemon zest fragrance evoking kaffir lime leaves, with notes of mint, candied lemon, with a slightly spicy peak recalling some peppers.
Le Comptoir des Poivres Mikan Mandarin Bark Japan 50g
Subtle nose, with touches of sweet citrus, a vegetal nose evoking a hot smell of straw. On the palate fun texture, the powder melts on the tongue, leaving traces of sugar and in the end, a pleasant bitterness of tangerine bark.
Le Comptoir des Poivres Japan Yuzu Bark Powder 80g
Intense nose of citrus, lemon, lemon confit, dried lemon peel with menthol spikes. Despite the acidity, a warm and sweet note emerges.
Le Comptoir des Poivres Japanese Combava Bark Powder 60g
The nose is powerful, violent even, very impressive and everything is natural! The dominant smell is of course lemon, lime, but with sweet notes reminiscent of candied citron zest. We also find a beautiful camphor and mentholated smell, reminiscent of euc
Long pepper from Ishigaki Jima - Japan 50g (reserved for the local market until 2022)
What first strikes upon olfactory examination are the surprisingly warm, woody, roasted notes, with a beautiful presence of cocoa, coffee, surprising touches of bell pepper and dried tomatoes, a slightly creamy, buttery smell, evoking a cake in the oven..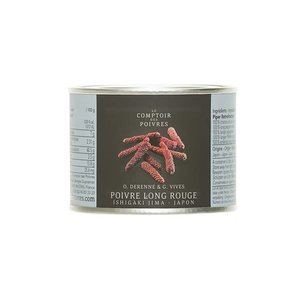 Add to cart
Long pepper from Ishigaki Jima - Japan 50g (reserved for the local market until 2022)